Some months ago my wife, Mrs Vyan (aka Robin), felt something had to be done. So she did it. She has a gift of song and has been a long time musician. A Musicians Institute Graduate who trained on bass with Jeff Berlin, and on drums with Joe Porcaro (father to Jeff and Steve of the band Toto). She wrote the song that is shown in the video above the magic orange squiggle of power. I recorded and played guitar on it, plus some backing vocals and bass. With the help of some friends we eventually put it all together. She was inspired by what happened exactly one year ago to try and make a difference.
All Proceeds from the resulting track are going to the Red Cross Japan Relief Effort - 100%. We're taking nothing. Here is the QR to download your own MP3 of "Finding Something Greater" from Amazon.com or to spread around the web, and around the world.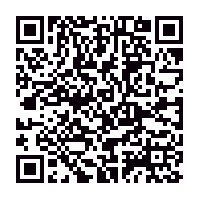 These are her words.

9:46 p.m . Pacific Time…

It's hard to know what to say as I still feel the peal of distant temple bells in my soul. I have friends in Japan. Some of my extended family is from Japan. I had "skin in the game". A year ago, the nation of Japan was shaken, then drowned, then irradiated.

I can't even work an office gig for a living, but the idea of doing nothing was inconceivable. As a musician, there is always the potential for me to do something. Sing at a benefit show. Coordinate a benefit album. Or…co-write and sing on a benefit single.

In the hours after the quake and tsunami, I shared some songs/videos from YouTube on Facebook to encourage my friends in Japan, including uplifting messages and referring to my little DJ efforts as "Radio Danketsu" ("danketsu" being Japanese for "team spirit"). I linked to more over the next couple of days, trying to help keep my Japanese friends' spirits up, my heart breaking as I read their posts telling of their fear and uncertainty and despair, food shortages and power outages…even as they "liked" the music I shared. It was during those few days that I wrote the lyrics of "Finding Something Greater".

Since Vyan is a better writer of chord progressions than I am, I gave him a starting idea, a "totally 80's!" hook that I really liked. He played with it and eventually converted it to something I liked even better than my original idea. We hashed out the magical meetings between word and melody, and finally set up our recording "studio" in the living room, which we've oft referred to as "MacGyver Studios" - bubble-gummed and coat-hangered together, but efficient. I believe we recorded the basic tracks and my initial vocal (which is on the video) between 5 p.m. and 3 a.m. that evening.

I wanted to offer friends and former bandmates the opportunity to fly in tracks if they wanted to throw down for the cause. Keyboardist Ruth Nix, with whom I went on my second-ever tour with a large performing group in spring of 1971, just before my 15th birthday, brought her synthesizer over to do her tracks. (We've performed together off and on since '71…) Guitarist Laura Lissenden and drummer Vanessa Martin, two of my old Chemistry bandmates, contributed instrumental and vocal tracks, "flying them in" from their home studio in Montana. They also put together the video for the song.

Once all the tracks were put together, we sent Laura and Vanessa the early mix, which they used for the video, as they preferred my rawer initial vocal to my re-done tracks. (As I told Vanessa yesterday, "I'm my own worst critic…") Vyan also did the sound mix, which was a challenge. We were dealing with Audacity here and much lower tech recording techniques being clouded from Montana. Isolate a sound here, hand-quantize a beat there, and voila! Or not.

Long (and probably dull, to the non-musician) story short, we finally got the song done, mixed, and up on Amazon. I hope you like it. Even if you don't, I hope you'll help. It's still needed. The Red Cross has less in terms of medical care to help with and more in terms of rebuilding Japan's medical care infrastructure. Many thousands are still homeless; Habitat for Humanity International is helping in that regard. There are other agencies doing what they can, but it will be years before the country is fully restored. Maybe decades. Maybe never. But we must not forget Japan.

Thank you for listening. Heiwa.
Here are a few more videos and articles:



When you visit the tsunami hit area and see the emptiness, you'd just lost your words. I myself have yet to gone to those places but will do in two weeks. On the other hand, when you visit those cities and towns escaped from tsunami, on the surface you will find rather peaceful yet inactive towns and beautiful landscape there. However, nuclear radioactive particles can't be seen but only on the special measurement counter; which seems even more sinister.
Makeup is mostly beloved as an art form, but we underestimate the transformative power beauty products can have on our well-being during times of crisis. In the case of 2011's cataclysmic Japanese earthquake and tsunami—the one-year anniversary is already here!—one woman found a way to use makeup to help, heal, and uplift victims of the tragic disaster.
American Red Cross: One year after the disaster, the American Red Cross has raised $312 million, and the vast majority of that money has already been used in Japan for relief and recovery operations. Red Cross response activities have transitioned from providing emergency medical care to helping reconstruct the health care infrastructure. Donations to the American Red Cross are helping to rebuild temporary and permanent hospitals, rebuild a Red Cross nursing school and strengthen Red Cross disaster response capacity. Donate here.
We've been collecting and posting, when we can, videos and news about Japan Relief and Fukushima Updates on A Special Radio Danketsu Facebook page I set up. Feel free to watch and/or share the video, download the song, take a look around, add or share anything you find relevant just to keep a spotlight on this issue.

It's not something any of us can afford to let go ignored.

Vyan